Discussion Starter
·
#1
·
It all started this morning around 8:00 am., when I heard that long awaited sound of the first schoolbus pulling away from my driveway.
With the rain steadily falling, I new it was going to be a bad day to get any work done around the yard. So off I went, with the idea of riding around to look for deer mulling around in the rain.
I hadn't been gone long when I ran in to a friend I made a few years ago, He is a senior member of the community, with a vast amount of knowledge of all things Deer and Deer Hunting. After we talked for a while he asked if I had time to stop by his house, He said he would like to show me a few things. So since I had nothing to do I went for the visit.
You would not believe what I saw when I got there!
As I walked on to his closed in porch I saw nothing but antlers, dozens of skull plate mounted racks of all sizes mounted neatly in rows. They are all from deer he has taken throughout his life.
After looking over the porch real good, My friend invited me to the living room. Threre were five very impressive mounts on the walls, and three or four piles of shed antlers that each had been numbered and catalogued.
If that weren't enough, He then directed me to the cellar. What I saw there nearly floored me, there were shed antlers hanging in pairs from the rafters in every direction and single sheds neatly hung in rows one over the other on nearly every wall.
I was in awe as he gave me this little tour, there were hundreds if not a thousand sheds in his house.
He has been hunting all his life, I don't know his actual age, but I know he is retired and has been for some time. He still goes hunting every year in Maine, Massachusetts and New hampshire. (He shot the biggest buck in NH back in 1963) He is in very good shape for his age, I only hope I can do what he is doing when I reach his age.
Before leaving his house, He had one more stop for me. As we walked through the back yard he went to and opened the garage, there he had moose sheds hanging on three walls and a few on the floor or on top of other things stored there.
I met this young fella a few years ago while out shed hunting, I had just found a nice shed and was looking for the mate to it when I saw the thin man walking with a tall stick. I made my way over to him and we talked for a few moments, I remember him saying "Ive found a few of those".
I think that was an understatement!
Yep, It was one of those days when everything just seemed right.
The porch....
The mounts......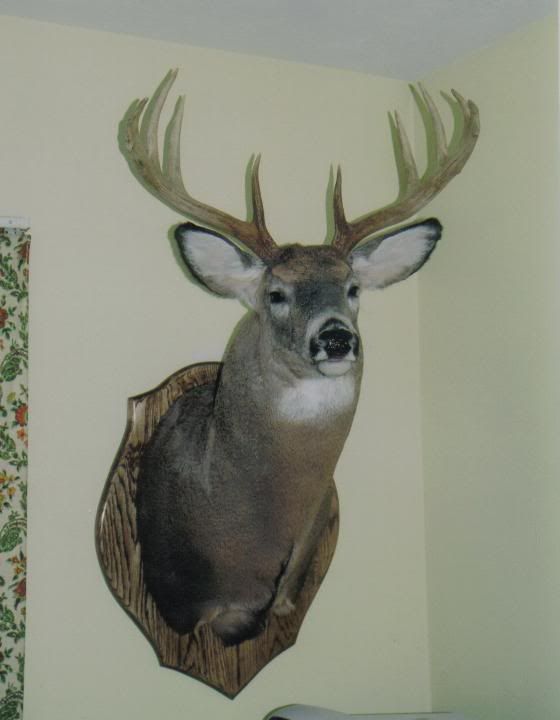 The bones.....