Discussion Starter
·
#1
·
Met up with 3 friends at 4 AM for our departure of our Memorial Day Weekend hog hunt. We arrived at the property 9+ hrs. later, and headed out for our first stand around 5 PM. The corn feeder went off shortly after I got settled into my Ameristep pop-up blind, and I prepared myself for the unknown.
As it was just about dark, I began to pack everything up for the night. Had my bow release off my wrist and stored in my lower pocket of my camo pants....arrow placed back in the quiver....my fold up chair, fanny pack, and blind poles had been layed outside of the blind on the ground in front of me.
Just as I was about to fold up the Doghouse, I heard what I thought was grunting, so I peered out the front window. Sure enough, a group of pigs were heading in my direction to swallow up some corn.
Quickly I knocked an arrow....quietly I slipped on my release ( velcro can sound pretty loud! ) , and just stood thru the window of the blind from my waist up. I was shadowed from the remaining light, and down wind from the approaching hogs.
One good looking black boar, probably 125 lbs, veered out to the right of the feeder approx. 20 yds straight in front of me. I released the arrow and it struck it's target with a nice THUMP!
The pigs were somewhat rattled now and scattering in all directions, while some continued to feed. I knocked another arrow and shot a smaller pig to my left. At that shot, the rest of them headed for the thick cover, which was straight past me on both sides.
Another hog ran to my right, and stopped within 3 yds of the blind, then he must have winded me before I could get off a third shot.
The rest of our party arrived about 30 minutes later and lended a much needed hand at tracking my quarry. We found the 2nd pig, about a 20 lb'r within 30 yds of the blind, but lost sign of the first one after the guys tracked him for what seemed like a quarter mile. We searched until shortly before midnight, to no avail.
We nicknamed this little guy Paperweight.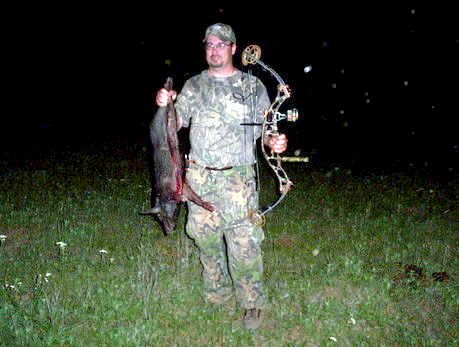 Day 2 of our hunt, the wind was really blowing more than I cared for, so I left the pop-up blind in the truck. I just carried my fold up lawn chair and placed it back in the deep shadows of the low hanging oak trees. Kinda laughing to myself of my "set-up", I figured it was worth a try and settled in.
Two hours after sun up, a group of pigs came running from cover to the feeder. They never knew I was there, but stayed behind some trees, blocking my chance for a shot. Once they cleaned up their breakfast, they were off again.
An hour later, I got up from my "stand" to stretch, and low and behold, another hog was working its way to the corn. It startled when it saw me, and bolted before I could see exactly what it was.
The evening stand was unproductive as far as seeing pigs, but I got to view a couple dozen Rio Grande turkeys off and on most of the afternoon.
Day 3, I arrived at my sight around 5 AM and got the blind set up. From the lack of sleep during the past couple of days, I could hardly stay awake, so I laid my head back and snoozed for the first hour of daylight.
At one point I awoke to the odor of pigs, but saw nothing. Within a couple minutes, I heard what I thought were grunts, so I looked out the blind to find a large, lone boar under the feeder.
Today I was hunting with my Thompson Center G2 Contender in 30/30 Winchester. He looked in my direction a couple of times, and I began to get a little nervous, hoping he wouldn't bolt for cover.
Placing my blind, I figured if I kept the small tree between me and the feeder, I'd have more freedom of movements, and it proved to be the right thing to do.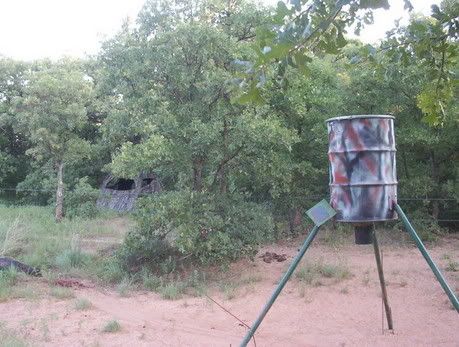 All I had was a small "V" of a window, with a strand of barbed wire at the top. Not much room for error, but I felt confident in my T/C.
The big boar just wouldn't come out from behind that tree, so I figured now was as good a time as any. He stepped into view, and all I could see was his head and neck.
BANG, FLOP.....the boar was mine!
You can see where he was in this photo, under the lower wire. This is a perimeter fence around the feeder to keep the cattle from entering.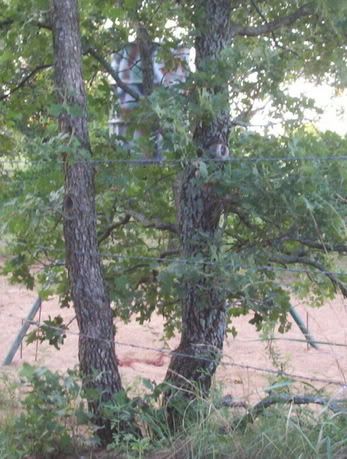 I estimate the boar weighed close to 300 lb's on the hoof.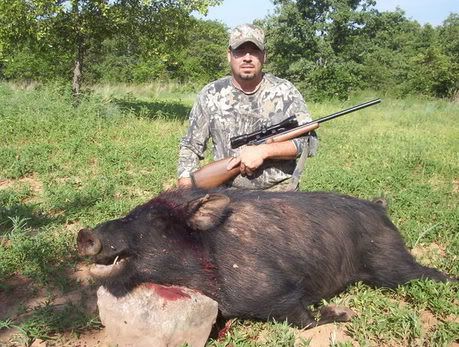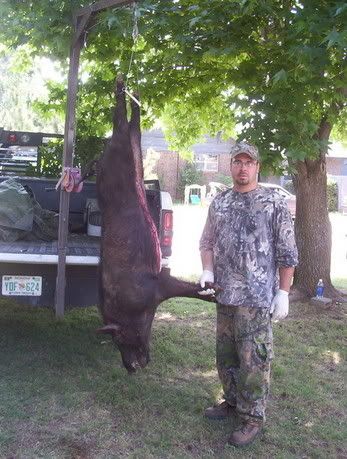 Over all the trip was great. One other in our party was able to connect on a nice sow weighing approx. 125 lbs. Unfortunately the other two fellas just weren't presented with shooting opportunities, but I am sure everyone had a good time. Our host for the weekend was most welcoming and just an all around pleasure to be associated with....and I can't pass to mention the wonderful elk burger mexican casserole and chocolate chip cookies his wife provided for our crew.