Discussion Starter
·
#1
·
Just thought I'd share a little tale from "out west" with ya'll.
Jan. 19th-21st, myself and some friends made a trek to east central Oklahoma for a wknd hog hunt, leaving home at the crack of dawn and arriving at our destination 8 hours later. On our way, we passed through several areas that had endured tremendous damage from the past weeks ice storms. It was obvious that many folks were still without electricity and received much worse than we had up around home. It was quite a sight to behold, many power lines and poles were down, and the ice was still very bad. Linemen were busy trying to restore the mess for many miles.
With the weather as nasty as it was, the hunting seemed to be pretty good the first 2 days, everyone saw pigs. Sunday it got to about 40* and sunny, but no one saw a single critter.
We dropped Wayne off at a stand site first Fri. evening. He wanted a hog with his bow, but opted to take along a rifle, as well. Within 5 minutes after being dropped off, he found several hogs already under a feeder and in a nearby pasture, before he could get to his stand. We heard him shoot as I was getting out of the truck, although later learned he had shot over a sow about 150 yds out. Just before dark, a good boar came in offering a 15 yd. shot with his bow, and he connected.
I wasn't in my stand but an hour the first evening and a group of 18 came in. I passed on them waiting for a bigger one to appear, but could never get a good view of a couple back in the brush.
Sat. it rained most of the day, while sleet fell at times. Very wet and cold! At 8:30 AM, the same group as the night before strolled in and I shot the closest of the larger ones, and it was DRT.
With the weather as crummy it was, I wasn't sure if we'd get in 3 days of hunting, so I figured meat was an important factor right then!
Sat. afternoon it was still raining and starting to freeze, we got to Wayne's site once again and he offered to check his field for hogs before we drove off, and if indeed they were out already, he wanted our young hunter to have an opprtunity to harvest one of them. Sure enough, there were 8 already in the pasture. We quickly got out and were successful with a stalk and shot from the pond dam.
Later, not 10 minutes after I'd gotten settled in to the pop-up blind, a half dozen pigs came in, but left quickly. Then 40 minutes later, they returned and hung out in the oaks. I could have taken one if not more, but due to the nasty, wet weather, I figured if there wasn't a bigger one than I've already gotten in the past, I'd just observe for now. Hoped they might come back after the rain had stopped, but it didn't happen.
On our trip, everyone saw multiple pigs, and we had a great time, regardless of the weather. The little guy in our hunting party got his first pig and is now hooked!
A few scanned photo's.
Our young hunter's first wild pig. He was one proud hunter!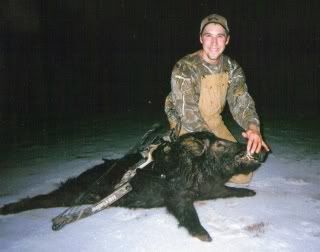 Wayne and his Hoyt whacked 150# boar.
Myself and another G2 Contender pig, a 100# sow.